The summer season is quickly approaching; are you ready for some outdoor activities and entertaining?
Outdoor lights are a staple item in your home lighting repertoire. They are a great way to highlight the landscaping in your yard, as well as the facade of your home. Lighting can work to feature focal points and hide eyesores in your outdoor spaces. You can give your garden, yard, patio, or lanai a boost in style with the lighting choices you make!
Carefully planned lighting in your outdoor areas amps up the ambience. In your backyard, the lighting can work to set a mood for outdoor dining (the season is almost upon us). A well lit outdoor dining area makes your backyard useable at night for entertaining. It is like adding an entirely new room to your house. Many people don't see their homes until after dark on the weekdays; lighting your outdoor space makes it useable at times other than the weekend!
Hinkley – Landscape Accent // Kichler – Accent LED Landscape Accent Light
Consider adding spotlights to highlight key parts of your yard (a tree, a fountain, etc.). The spotlights will draw the eye in their direction. The placement of your outdoor lighting is essential. Small fixtures and spotlights are easily hidden in foliage or rocks. The key is to make your lighting blend into its surroundings to create a mood without making it obvious of the source of light.
Kichler – Seaside Outdoor Hanging Pendant // Quoizel – Rue De Royal Aged Copper Outdoor Hanging Lantern  // Hinkley – Landscape Path Light
Lighting styles for outdoor fixtures can be influenced by current trends! For instance, illuminated globes create a chic and glowing atmosphere. We previously pointed out that copper details are becoming popular in lighting, and this is not just the case for the interior: you can find copper lighting options for outdoors as well!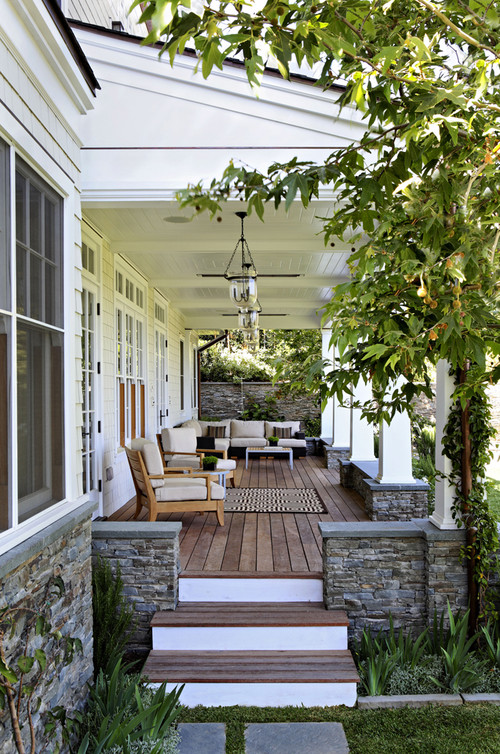 Lanterns are also a great trend that have been popular for years. Their rustic yet chic style adds a very welcoming feeling to your home. Another trend to consider? Novelty lighting! Why not have a little fun with your backyard area? Novelty lighting can add personality and whimsy to your space.
Quoizel – Lodge Mystic Black Outdoor Hanging Lantern // Kichler – Hanford Anvil Outdoor Post Lantern // Maxim Lighting – Portsmouth Outdoor Post Pendant
Of course, these are just a few ideas you can use to light your outdoor spaces. How are you illuminating your outdoor areas?